Leave Those Skinny Forearms Behind
Strength Starts from the Forearms: Our Gear Guarantees Growth.
Forget Weak Handshakes and finally Hit New PRs.
Regular price
Sale price
$29.00 USD
Unit price
per
Sale
Sold out

Is your lack of hand strength causing you problems in the gym? Do you encounter difficulties while holding onto the bar when doing Deadlifts? Does your grip slip when doing Pull-Ups? All of this is caused by the lack of hand grip strength and grip endurance! If you have a weak grip, your hands will fail and exhaust themselves before your body, causing bad lifts. Using Block Weights, weights that are in the shape of a block/cube to train will not only significantly improve your hand and grip strength, but your other big lifts as well. As John Brookfield, one of the most prolific authors on hand strength once said, "Block Weights = Hand Strength.". This digital video course will educate you on the proper Block Weight Training techniques and will help you establish a phenomenal foundation in hand grip strength!
Who Can Benefit from Block Weight Training?
-Football Players: If your hands are weak on the football field, then you are a liability for your team. Get your hands stronger with Block Weight Training and you'll avoid fumbles, complete more catches and make more tackles.
-Track and Field Throwers & Vaulters: Your hands MUST be strong in order to perform well in the javelin, shot, and discus. Block Weights build strength in your hands at all angles, and the way they build up the wrists means you'll have more power for the pole vault as well.
-Law Enforcement Personnel: Let's face it - on your job, your hands are your first line of defense when the crap hits the fan. Block Weight Training will enable you to grip an inmate's arm to control them in a fight, a purp's wrist to safely apply hand cuffs, and the hand of a colleague if they are in trouble.
-Baseball Players: Stronger hands and wrists are an asset to the best ball players, and the stronger you can make your forearms and hands, the more resilient against injuries you'll be. Hitting the Block Weights hard after practice can help you build better home run power and make you a force on the field.
-Gymnasts: Your hands and wrists are what gets you through each execution on the bars and help you propel and redirect your body when working on the floor. Block Weights take your grip to levels you've never thought possible from past training you've done.
-Powerlifters: Ever drop a Deadlift, JUST before lockout? Sucks doesn't it. Block Weights strengthen your fingers from the base to the tip which will help you grind out those heavy pulls, plus Blocks will build your thumbs up, which will reinforce your grip on the bar even more.
-Olympic Weight Lifters
: While the majority of the work you do in the gym is barbell based, there's only so much Grip Strength benefit you'll get from your regular lifts. If Grip is a weakness for you, you need to add something else in that won't take too much time away from your primary work. That's where Block Weights come in - High Impact & High Benefit.
-Manual Laborers
: You get paid by your ability to get stuff done. The ability to get jobs completed. Work like this requires a strong set of hands that can stand up to whatever challenge is thrown at them, and Block Weight Training gets you ready for anything your hands will encounter on the job.
-Crossfitters
: You know how important strong and healthy hands are to your training. Guaranteed 99% of the competitors you're going up against know NOTHING about Block Weights. Now that you DO KNOW about them, be sure to keep them a secret.
-Strongman Competitors
: In any Strongman contest, the hands are going to be tested to the fullest. Make sure that your Grip is the LAST to give out at your next show by working with Block Weights TODAY.
-Basketball Players
: Rebounding, passing, shot-blocking - all of these aspects of the game - AND MORE - require strong and healthy hands. Hands that are tough from the palms to the finger tips. Block Weights can reinforce this entire area, helping you to stay injury free and remain in the game longer, helping you rack up the big stats.
-Rugby Players
: Your sport requires serious toughness and you can't afford any weak links. Block Weight Training will give your hands the ruggedness they need to have, and you'll be able to play as aggressively as ever.
-Soccer Goalkeepers
: When a ball is speeding toward you, you react like a cat and try to block it from entering the goal. Block Weight Training will turn your fingers into reinforced steel bars, capable of deflecting anything you can reach with less worry of jamming or injuring something.
-Martial Artists
: Since many chokes and submissions involve the hands, a strong grip is HUGE in martial arts. Strong hands also are important for the throws found in many disciplines. Block Weight Training will help you whether you are holding your opponent in a gut wrench, by the arm, or by the gi.
-Wrestlers & Grapplers
: You know how important it is to be able to control your opponent on the mat, so Grip Strength is key, but you've also got to have the RIGHT kind of grip strength. Many of the drills in this DVD are very dynamic in nature and will carry over very well to wrestling and grappling.
-Grip Specialists: Block Weights, and especially the 50-lb York Blob, are some of the most common Grip Strength goals of grip enthusiasts. Everything you need to know about Block Weight Lifting is covered for you in this video. You'll be dominating your goal Block Weight in no time.
Open Hand Training and Why it is Important
Open Hand Training involves placing your hand on something that will not allow your thumb and fingers to overlap one another. When faced with a realistic task, it is more common to find and cope with the best grip possible, even if it is not the comfortable grip that we are used to. That is why Open Hand Training is so important, because when faced with a real life strength situation, the Open Hand Strength will be what ultimately determines the outcome!
What is Included in this DVD
Part 1: Introduction
In this short section, you will learn about why Block Weights are so beneficial, and why it makes so much sense for athletes, manual laborers, law enforcement personnel, and anyone else who needs strong hands for what they do to use Block Weights in the gym. 


Part II: Types of Block Weights

The most commonly used type of Block Weight is a head from a dumbbell, but there are many other kinds of Block Weights out there that you can use to get the benefits of Open Hand Training. In this section, you will walk through 8 different kinds of Block Weights that you can use. Some are easier to find than others, but many of them are probably already in your gym - you just haven't thought about them yet. 


Part III: Basic Drills
When beginning any type of new training, it is important to start out with the basics. In this section, you'll see the basic movements as they are done with Block Weights. These are terms you are probably already familiar with, such as Deadlifts, Cleans, Singles and Doubles. 


Part IV: Intermediate Drills 

Now, it's time to branch out a bit by performing some more demanding drills that will tax the hands and arms more. These drills can be done by lifters who train alone, or they can be done in small groups and team settings. 


Part V: Advanced Drills

After a few weeks, your hands are going to be much stronger, and you will welcome more challenges. That's where the movements in this section come in. You'll see drills that can develop the strength to lift big Block Weights, and you'll see how you can replace conventional training tools, such as dumbbells, with Block Weights to make the movements more demanding and more FUN too! 

What's great about all these drills is that you don't need giant Block Weights in order to build better hand strength. Just small block weights in the 20 to 30-lb range will work great for most athletes, and I will show you a variety of different Block Weights that you can use for all of the movements. 


Part VI: Programming
In this part of the video, you will learn what I feel are the best ways to program your Block Weight Training. These are the methods I began using years ago and still continue to use to this day. 

By using these methods you too can always be progressing in your hand strength training. Believe me, there's no reason to EVER get bored with Block Weight Training - by taking the drills I've shown you, and applying these programming methods to them, you'll have hundreds of ways to train your hands. 


Part VII: BONUS SECTION
Not everyone wants to take the time or spend the money to get a dozen different Block Weights. And it's not necessary either. Just 1 or 2 Block Weights is really all you need. 

I really wanted to make this video special, so I tacked this Bonus Segment on at the end. In this final part of the video, you'll see how you can turn one Block Weight into multiple Block Weights. You are going to love it. And if you are a strength coach who trains multiple athletes, this little gem will enable you to train entire teams effectively with just 1 or 2 Block Weights.
About the Author
Jedd Johnson is a Grip Strength and strength training enthusiast with over a decade of experience. He has been working on teaching the correct technique in grip to people for over 15 years! Jedd is a 2014 & 2015 North American Grip Sport Champion as well as the 2015 King Kong of Grip Champion. Jedd's course is a must have for people that are trying to maximize their strength and his approach to kinesthetic learning makes it easy his techniques easy to understand. 
How will this program be delivered
This is a digital DVD program. Once your purchase has been completed, you will be emailed a confirmation, after which, Jedd, himself will email you the video files in the following 24 hours! 
View full details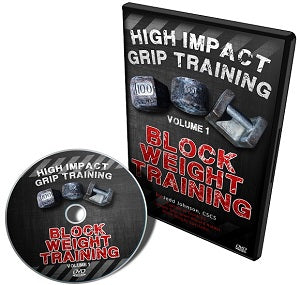 FAQs
Why do I need grip strength equipment?

Grip strength is often overlooked, but it's essential for daily tasks and various sports. Our equipment specifically targets and strengthens your forearms, wrists, and hand muscles, ensuring you have a firm grip and reducing the risk of injuries.
I'm a beginner. Is this equipment suitable for me?

Absolutely! Our products cater to all levels, from beginners to professionals. They come with adjustable resistance and guidance to ensure you start at a comfortable level and progress safely.
How quickly will I see results?

With consistent training and following our recommended exercises, many users report noticeable improvements in grip strength and forearm size within a few weeks.
Are these tools durable? I've had other equipment wear out quickly.

Our grip strength tools are made with high-quality materials designed to last. We stand by the durability of our products and offer warranties to ensure you get the best value for your money.
Can I use these tools if I have previous wrist or hand injuries?

We recommend consulting with a medical professional before starting any new exercise regimen. However, many of our products are designed to aid in rehabilitation and can be beneficial when used correctly.
What if the equipment doesn't work for me?

We believe in our products, but understand everyone's needs are different. That's why we offer a hassle-free return policy. If you're not satisfied, simply return the product within 30 days for a full refund.
How often should I train with these tools?

For best results, we recommend using our grip strength tools 3-4 times a week, allowing adequate rest between sessions to prevent overtraining and ensure muscle recovery.
Is grip training safe?

Yes, when done correctly. All our products come with detailed instructions and safety guidelines. As with any exercise, it's essential to start slow and prioritize proper form.
How many hand grips should I do per day?

For beginners, we recommend starting with 2-3 sets of 10-15 repetitions per hand, gradually increasing as your strength improves.

It's essential to listen to your body and avoid overexertion. Remember, consistency and proper form are more important than the number of repetitions. As you progress, you can adjust the number of grips based on your comfort and goals.